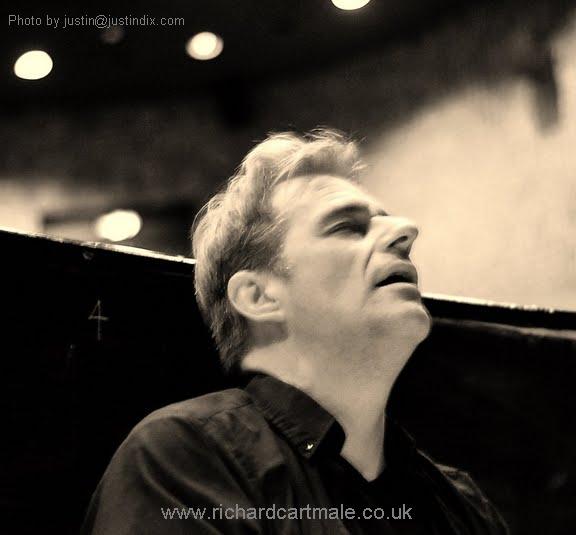 Having spent much of his teenage years writing music for both 'serious' and jazz/rock ensembles, Richard Cartmale took the opportunity to study composition at Trinity College of Music with the late Richard Arnell, who introduced him to, amongst other things, the possibilities of film music. Being involved with performances of many new pieces of music, either as performer or conductor also led to his coming under the influence of John Tavener and several of his students.
He was one of the founding students of the Electronic Music Department. His continuing involvement with and use of music technology right through the earlier days of MIDI technology has shaped many of his working practices, and was an integral component of his decision to build his own studio.
He has, in the past, composed music for a number of short films and two plays, but is finally concentrating on 'serious' concert pieces, most significantly the Cello Concerto. This is a large scale 1 movement work, dramatic and lyrical, but essentially tonal and consciously conservative.
Cello Concerto in C minor (2009)
After a somewhat interrupted gestation, the composition and orchestration were completed in February 2009. A small amount of editing remains.
Scored for 2222, 4230,Timps(4),1 perc, piano and strings.
The Concerto runs to 29 minutes in a single movement.
The piece has been recorded in a MIDI orchestral simulation, and a short section of the exposition can be heard
here- Cello Concerto -short taster clip (first subject)
Here is a longer clip - the whole of the Adagio introduction- as well as the Allegro first subject :
Cartmale - Cello Concerto Clip 1
the final 2 sections
here Cello Concerto clip5 - includes draft cadenza
and
here Cello Concerto clip6 - the conclusion of the work - a reflective coda
It is now hoped that the work will receive a first performance during 2015-16, although this is subject to finding the right Cellist. Any further news on this will appear on this website.
One reason Richard Cartmale cites for avoiding concert platform music for so long was the still dominant fashion for serial composition techniques in his student days. His teacher, the late Richard Arnell, was one good example of a composer who swam against that tide, but received too little attention as a result.
You can also hear a sample clip of some of his film music here
More news on this will follow. Please email if you have comments. The address is on the main page
'The Woodcutter's Daughter' previewed at Grimeborn Festival 2009
Currently he is working on a new project - his first opera - 'The Woodcutter's Daughter'.
This is a dark fairytale based on Grimm, writing in partnership with librettist Buffy Sharp and Eclectic Opera, with whom a workshop performance of an embryonic Act 2 was given at the Grimeborn Festival, London, in September 2009. One soprano aria from this has been performed separately in concert several times - including two performances in 2014 with Opera Foundry.
Subject to funding, further development and a full production are currently being planned
Sample clips will appear on this site soon.
After a hiatus of several years, work on the libretto began again in 2014. Most of the substantial new opening scene for act 2 has now been composed and will be previewed on this site in the near future.
A Respectful Reminder
All material on this site is copyright. Recordings are provided for promotional and reference purposes, and may not be re-used under any circumstances without the explicit permission of the composer.